The Expedia 2010 Insiders' Select 2010 Winner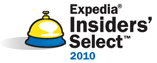 Nymphes Luxury Apartments has been voted one of the "THE BEST DESTINATIONS OF 2010. Expedia® travelers have ranked NYMPHES among the world's best hotels on this year's Expedia Insiders' Select™ list. The list formally recognizes individual hotels worldwide that consistently deliver excellent service, a great overall experience and a notable value. The full list represents only a small percentage of the world's top hotels from the more than 110,000 hotel properties offered on Expedia. www.expedia.com/insidersselect.
Delivering our guests superior service is a top priority at NYMPHES.
We are pleased that our efforts have been acknowledged by Expedia travelers and look forward to extending our high level of service to even more guests.